The winning teams of the GSTEP Challenge from the Greater Accra region have received STEM materials, resources, and equipment to support the STEM needs of their schools. The recipient teams were the winners of the Most Innovative Idea award, the Excellence in Applied Science award, the People's Choice Award, and the 2nd Runner Up – GSTEP Challenge award. Each award came with a valued amount of STEM materials to be provided to schools of the winning teams based on the STEM needs of the schools.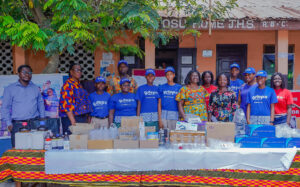 The winning teams included the EMJEEM team from Nungua Kroma 1 JHS, the Nunya team from Ayikuma M/A Memorial School, the Achievers from Services Primary & JHS, and the LPG Detector team from Osu Home JHS. Each team was presented with STEM materials which included scientific instruments, technological gadgets, and engineering equipment among others. The materials were presented to the headteachers of the respective schools.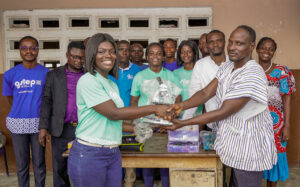 The recent drive by the Government of Ghana to encourage STEM education has increased discussions around access to STEM resources and materials to support the teaching and learning of STEM. Many schools have limited resources and materials to practically teach STEM subjects. The materials were presented to encourage students in the schools to develop an interest in STEM and to assist in the practical application of the STEM subjects.