The winners of the 2022 GSTEP Challenge, the Genius Six of Uaddara from Uaddara Basic School in the Ashanti Region have received an ultra-modern STEM laboratory for winning the ultimate prize. The team came up tops for their Illuminated Child Road Safety Device (I.C. – RSD) project for the Challenge for which each team member received STEM materials and devices valued at GHS 4,000, and their teacher received a cash prize of GHS 6,000 and Coursera and data subscriptions valued at GHS 4,000.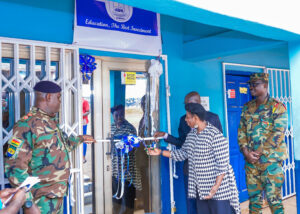 The STEM laboratory is designed to encourage students to develop an interest in STEM, practically apply what they are taught and explore opportunities outside the classroom with the materials provided. The laboratory will also improve teaching by enabling practical teaching of STEM subjects and support teachers to develop STEM projects for students to try their hands on. The laboratory is divided into three sections. They include the technology, science, and engineering sections. The science section is equipped with various scientific equipment, chemicals, and materials to support the practical teaching of science subjects. The technology section is equipped with laptops, a 3-D printer, filament, Raspberry Pi kits, and other technological equipment. The engineering section is equipped with saws, hammers, and many other engineering tools.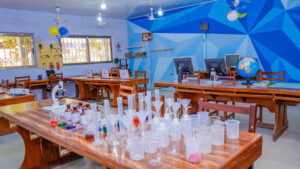 The STEM laboratory was presented to the school on the 18th of May at a presentation event held on the school campus. In attendance at the event was a representative from the Ashanti Regional Directorate of the Ghana Education Service, the 4 Garrison Education Officer, Lt. Col. V.B.Z Akatey, the Ashanti Regional STEM coordinator, Adam Issifu, headmistress of Uaddara Basic School, Madam Theresa Achiamaah, teachers, staff and students of Uaddara Basic School. It was a joyous event for all, especially students of the school, whom were excited to see and try their hands at the apparatus and materials provided. Lt. Col. V.B.Z Akatey thanked the GSTEP team for the support and materials provided to the school and assured the team that the materials presented will be handled with care. The headmistress also stated that the adjoining schools in the unit would also have access to the STEM laboratory to encourage more students to build interest in STEM.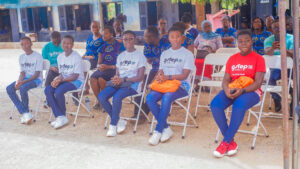 The members of the Genius Six team expressed their excitement and joy for the materials presented to their school. They indicated that they would continue to study hard in school and develop their interest in STEM subjects. Interestingly, 5 of the 6 team members are now pursuing Science courses in Senior High School. They all attribute their interests to do so to the GSTEP Challenge. The lead teacher, Richard Kojo Adomako expressed his gratitude to the GSTEP team and stated that he is very committed to encouraging more students to build interest in STEM subjects and careers.