The GSTEP programme is expanding its scope to enable more young people to have access to STEM skills and knowledge. This year 100 teams have been selected from the Greater Accra, Eastern, and Ashanti regions to benefit from the programme. The teams were selected after a rigorous assessment process was conducted to assess over 1,200 ideas from the three regions.
The number of teams has been increased from fifty to a hundred teams to offer more students to participate in the programme and make an impact in their communities. The length of the programme has also been increased to give the students more time to learn from their coaches and mentors and develop their prototypes. Forty teams were selected from the Ashanti region, twenty-five from the Eastern region, and thirty-five from the Greater Accra region. The selected teams represent the top-scoring ideas from each region.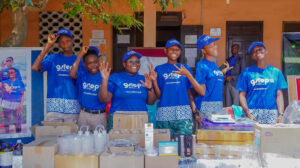 In July all selected teams will be officially inducted into the GSTEP programme. The teams will participate in a series of activities to prepare them for the programme and support them to successfully go through the programme. They will also be paired with their mentors and coaches who will be providing them with mentorship and technical support to develop their prototypes. In November the teams will pitch their ideas to a panel of expert judges who will select the winners of the Challenge. All teams will exhibit their prototypes to the general public at an Exhibition after which winners of the Challenge will be announced at an awards ceremony.
This year students will be encouraged to engage their local communities to support them in the development and completion of their projects. This is to ensure that the communities encourage their students to begin to think creatively about addressing their problems, support them with resources available in the community and drive STEM education in their schools. 
The GSTEP programme is seeking to go nationwide to ensure that Ghana's youth have access to resources and skills to create jobs and address problems locally. The increase in the number of participants and the number of regions is an effort to make the GSTEP programme available to more young people and drive STEM education in schools across the country.