From an impressive pool of entries, 25 teams emerged successful from Kumasi in the Ashanti Region of Ghana, earning their place as finalists in the GSTEP challenge.  Finalist teams, mentors and coaches on Thursday, 27th July 2023, were inducted officially into the programme. The event was held at the Kumasi Anglican Senior High School [KASS] located in the Kumasi Metropolitan Assembly as the atmosphere was filled with excitement and anticipation.
Still in the early hours of the morning, after a successful registration, Team Photograph Session and a good breakfast time, Afua Asiamah Adjei, the Executive Director of the DreamOval Foundation, gracefully ushered the finalist teams, mentors, and coaches into the GSTEP program. With infectious smiles and excitement, she warmly welcomed everyone and motivated them to give their very best.
During the event, Ms. Constance Agyeman, the founder of GSTEP, took the stage to deliver an introductory speech and provide an update on the GSTEP challenge's progress to date. With remarkable enthusiasm, she expressed her eagerness for the upcoming phase of the Challenge. She emphasized the primary goal of the competition, which is to provide vital support to young people, enabling them to explore and nurture opportunities in the fields of STEM and entrepreneurship.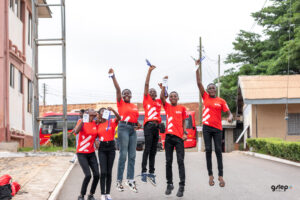 The Project Coordinator for the DreamOval Foundation, Mina Asabea took a moment to also extend her gratitude to the Regional STEM Coordinators, teachers, and all respective officials who graced the day and for their selfless dedication to the GSTEP challenge. She emphasized the need for all to encourage the teams and provide the necessary assistance till the completion of the project.
The day's activities featured vibrant STEMPLOSION sessions led by DEXT Technology, and Synergy Safari run by Foundervine, which involved interactive team-building exercises and STEM related activities aimed at fostering collaboration and teamwork among participants. In addition, dedicated workshop sessions were organized for teachers, mentors, and coaches, providing them with essential guidelines and resources to effectively fulfill their roles and responsibilities throughout the duration of the GSTEP Programme.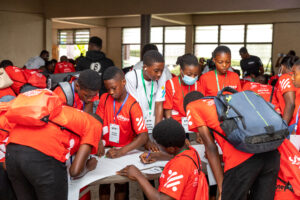 Keren Beechem, the Programmes Manager for the DreamOval Foundation, moderated the event, energizing the atmosphere. As the day concluded, Keren Beechem returned to deliver closing remarks, expressing gratitude and setting the stage for a successful journey ahead.
The participants couldn't contain their enthusiasm, which was evident as they took numerous group pictures, all driven by a strong desire to excel and succeed in the exciting GSTEP Challenge. In this course of the programme, the teams will be skillfully guided in refining their personal aptitudes which involves the art of communication and astute problem-solving. They will also embark on industry visits affording them firsthand insights into the practical applications of STEM.