Eleven finalist teams from the Tema Metropolitan, Tema West Municipal, Ningo Prampram and the Ashaiman Municipal together with their teachers and STEM coordinators had the opportunity to engage in an industry visit to the Museum of Science and Technology on Wednesday 25th October 2023 in the Greater Accra Region. The visit, as part of finalist support, of the GSTEP programme, introduced the students to practical application of STEM concepts deployed in addressing real world problems.
The teams were taken through the various sections of the Museum which included Human Anatomy, Automotive, Communications, Space Exploration, and Wildlife sections. Each section showcased models and real life displays related to nature, geology, industry, industrial machinery, among others. The tour of the Museum provided the students with the history of the objects on display, their use and impact on the environment and society.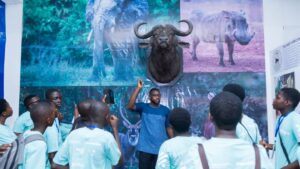 The tour was interactive as the students asked questions about the artefacts on display. They also had the opportunity to take pictures with some models of some notable STEM projects across the world. It also served as an inspirational opportunity for the students seeing projects developed by young people like them on display.
As part of the visit the students engaged in a fun STEM activity session with a group of STEM facilitators. The teams were introduced to some IoT devices and sensors and were shown how these technologies collect and transmit data. The teams were also taught basic coding skills and how these skills can be used in solving real world problems. This was an interactive session where the students asked questions and had the opportunity to try their hands using these STEM devices.
The visit was an exciting experience for many students who prior to this had only seen and heard of many of the things in the classroom and in books. The session gave them a clearer understanding of the subjects they study and helped in boosting their interest in STEM fields.