The deadline for the submission of entries for the 2023 GSTEP Challenge ended on Friday 28th April 2023. Over 1200 entries were received which is an increase from the 844 entries received last year. This is a positive indication that the GSTEP Challenge is positively impacting students and the interest in STEM education in Ghana is rising. This year, entries were received from the Greater Accra, Eastern and Ashanti regions.
In an effort to give more opportunities to young Ghanains to develop interest in STEM, this year 100 teams will be selected which is an increase from the 50 teams that were selected to participate last year. Students from the Eastern region are also eligible to compete this year. Activities for the Challenge will run from June 2023 to January 2024. This is to give the teams more time to learn more about STEM, engage with their mentors and coaches and have enough time to build their prototypes.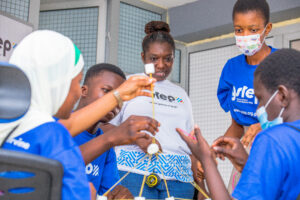 The assessment of the entries are currently ongoing. This is being done by a team of recognised assessors who have experience in STEM and education. They will be using the judging criteria provided on the Resources page of the GSTEP website to guide the selection of the entries submitted. The judging criteria can be viewed here. The 100 selected teams for the 2023 GSTEP Challenge will be announced on Thursday, 25th May 2023.
Induction events for the 100 finalists will be organised in June in the Greater Accra, Eastern and Ashanti regions. This is an exciting time for the finalists to get together and be introduced to the Challenge. They will be introduced to their mentors and coaches and also participate in a series of workshops to prepare them for the Challenge. The teams will then proceed to the finalist support stage where they will receive guidance and coaching in STEM and develop their business plans and prototypes. Between November and December the teams will pitch their ideas and present their prototypes to a panel of judges. The teams will proceed to exhibit their prototypes to the general public in January 2024. The winners of the Challenge will be announced and finalist teams will be celebrated at a prestigious awards ceremony on the same day.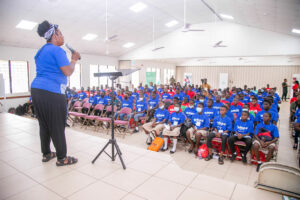 The 2023 GSTEP Challenge is focused on providing more Ghanaian students with knowledge and skills in STEM and entrepreneurship. The Challenge also seeks to provide students with soft skills such as critical thinking, problem solving, presentation and communication skills to make the youth ready for the job market and be ready to develop marketable businesses and solutions that drive employment. The Challenge was successfully implemented last year with the prototype of the winners being recognised and considered for deployment. This year, more students will be empowered with skills and make social impact in their communities.