On Tuesday 18th July, 2023, over 170 students and their teachers participated in the 2023  GSTEP Greater Accra Induction event. This event brought together all selected teams for Year 3 of the GSTEP Challenge to officially induct them into the programme. Present at the event was the Regional Director of the Ghana Education Service (GES), Madam Olivia Opare, officials of the GES, Regional STEM coordinators, mentors, coaches, the media and members of the GSTEP Consortium.
Guests were welcomed by the Executive Director of DreamOval Foundation, Afua Asiamah Adjei. Constance Agyeman, the Founder of GSTEP gave an overview of the 2023 GSTEP programme and encouraged participants to give their best to ensure they derive the maximum benefits from the programme. The finalists were celebrated for developing unique solutions that were submitted for the Challenge and were encouraged to make use of their resources and support provided them to develop knowledge and skills in STEM and Entrepreneurship. Coaches and mentors were also acknowledged for offering their knowledge and expertise to support the finalists.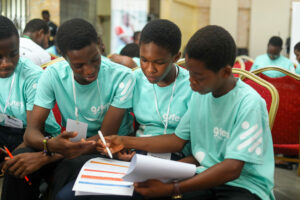 The finalist teams participated in a series of workshops to prepare them for the Challenge and give them insights into STEM and the opportunities available to them. They took part in team building sessions to develop their team work and communication skills. They were also introduced to the development of business plans and were provided with resources and guidance on how to develop their business plans. The teams were taken through financing and budgeting where they were taught how to successfully budget for their projects as well as other key financials they should consider when developing their projects.The teams also participated in some fun STEM related activities and were introduced to prototype development. 
Mentors and coaches who had been selected to participate in the 2023 GSTEP programme also participated in a series of workshops to introduce them to the programme and give them guidance as well as resources to assist them perform their duties. They were also paired with their teams and participated in engagement sessions with their teams. These sessions provided the mentors and coaches with an overview of the projects their teams will be implementing as well as key areas their teams will need support.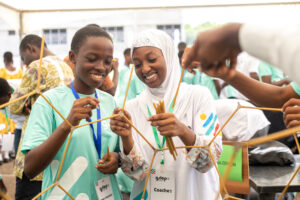 Teachers were not left out in these sessions. They also participated in a series of workshops where they were provided with the events and activities slated for the 2023 GSTEP Challenge, the expectations and how they will be supported during the programme. The teachers also engaged with their assigned mentors and coaches.
In the coming weeks and months, the teams will participate in a series of mentoring and coaching sessions where they will be supported to develop their ideas and be provided with knowledge and skills in STEM, entrepreneurship, communication and presentation skills. The teams will also participate in industry visits where they will see practical applications of STEM. The GSTEP programme encourages Ghana's youth to develop solutions to problems in local communities using Science, Technology, Engineering and Mathematics.