Over 150 students, teachers, mentors and coaches were officially inducted into the GSTEP programme in Koforidua on Thursday 20th July 2023. In attendance were the Eastern region STEM coordinators who have been instrumental in reaching the schools in the region to participate in the programme.This is the first time the Eastern Region is participating in the GSTEP programme and it was important that all participants were provided with necessary support and information to enable them successfully complete the programme.
The finalists were welcomed to the programme by the Executive Director of the DreamOval Foundation, Afua Asiamah Adjei. She expressed her joy at the inclusion of the Eastern region into the programme and she encouraged the teams to put in their best to showcase the capabilities of the region. Constance Agyeman, the founder of GSTEP, congratulated the teams on their selection and assured them that the needed support will be provided to ensure that the necessary knowledge and skills in STEM.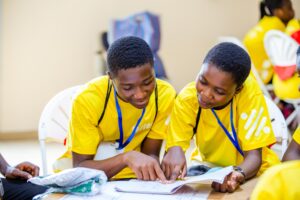 The Eastern Regional STEM coordinators were appreciated for their effort in recruiting schools to participate in the programme. The number of submissions from the region was impressive and they were encouraged to continue to support their teams to complete their projects and participate in all required activities. Siddhartha Jha, AI and Digital Innovation Lead at Fondation Botnar congratulated all the finalists and encouraged them to continue to work hard to complete their projects and utilize the resources and support provided through the programme.
The teams participatedin a series of workshops including teamwork and team building activities, business plan development and prototyping, budgeting and financing. They also engaged in some fun STEM activities and had their first meeting with their coaches and mentors. These sessions were designed to prepare them for the Challenge and introduce them to critical thinking, STEM and problem-solving skills.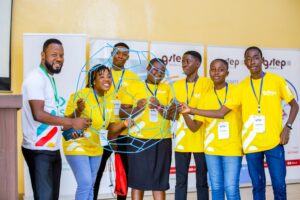 Teachers, mentors and coaches also participated in workshop sessions where they were introduced into the programme and provided with guidelines and resources to support them in executing their roles and responsibilities during the programme. The mentors and coaches interacted with their assigned students and teachers to understand their projects and the support they will need.
The finalists from the region showed excitement and eagerness to excel in the Challenge. The teams will proceed to participate in mentoring and coaching sessions during which they will develop their ideas into prototypes. They will also participate in industry visits to see practical applications of STEM. The teams from the region are confident they will make their mark in this year's Challenge